MTN Pulse Partners with FUZU to Offer Career Support to the Youth
Latest News
|
2021-09-29
We all should agree that choosing a career path or let alone finding a job in these recent times is not easy. But thanks to MTN Uganda, the saviours they are, through MTN Pulse have entered a partnership with FUZU the leading online Job and career portal in East Africa. This follows MTN Pulse's vision of empowering the youth to realize their full potential as the vanguards of the future. This happened on Tuesday, 28th September 2021.
In this partnership, MTN Pulse will work with FUZU to support the MTN Pulsers with career guidance, job searching insights and the relevant training as a way of supporting them to identify and nurture successful careers.
Under this partnership, Pulsers will get access to a customized FUZU platform with 400 FUZU points which will enable them to get discounts on the array of premium services offered by FUZU including personalized career coaching sessions with FUZU's professional career coaches who give a holistic support on preparing for the right career opportunities and a professionally curated online curriculum vitae (CV) that improves the candidate's chances of securing the job interview.
The MTN Pulsers who apply for jobs through FUZU can also redeem their Fuzu points for Instant Feedback on job applications to see how their profile   compares with the employers' requirements and top candidates, giving them an opportunity for learning and development using the FUZU points. Furthermore, they will be able to access FUZU Learn which entails professional courses created by FUZU and its learning partners such as Udemy.
While launching the partnership, Hellen Kirungi, MTN Uganda's Youth Segment Manager said that MTN Pulse had partnered with FUZU to further support the youths in their career journey through empowering them with the right skill sets for their careers to take-off. Youth empowerment is one of the pillars upon which MTN Pulse is hinged.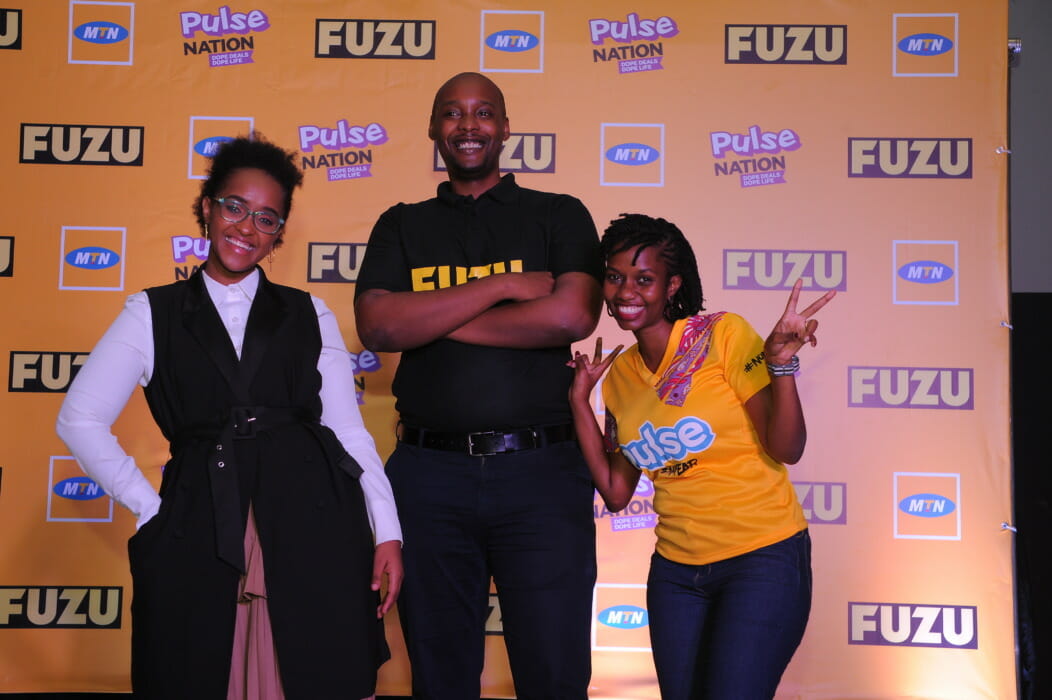 "MTN Pulse is an aspirational brand for our Ugandan youth. And just like them, the brand is about excitement, fun, attitude, and ambition. Our partnership with FUZU solidifies our commitment to support their ambitions and help them secure a meaningful future that is productive, secure and successful," Kirungi said.
Alvin Katto, Fuzu's Country Manager in Uganda said that the partnership with MTN Pulse signifies a huge step forward in achieving Fuzu's mission of preparing people for Success in Uganda.
"Since our launch in Uganda in 2018, Fuzu has supported thousands of people to get access to career guidance, growth opportunities and support to be able to achieve their career goals and have meaningful careers. The partnership with MTN Pulse provides us with a platform to enable even more people, specifically the youth, to have access to these resources, which we firmly believe will have exponential positive effects on the growth of the country."
MTN Pulsers will register for this through the Pulse App under careers and will be redirected to the registration. The link to FUZU https://www.fuzu.com/signup/mtn-pulse will be zero rated to allow pulsers access to the rich and insightful career-related content from FUZU and to enable them keep up with the career dynamics as they find their footing in the world of work. MTN is keen on empowering the youth to take control of their lives through extending to them specially tailored offers such as this offer from FUZU that the youth need in order to get ahead in life.
The partnership between MTN Pulse and FUZU is but one of the many deals that MTN has secured for its youth segment customers. In addition to offering them discounted MTN products and services, the youth on MTN Pulse automatically qualify for discounts and freebies with various MTN Pulse partners. Go to https://pulse.mtn.co.ug/offers to get the best deals from the leading glam, fashion and eating joints around town courtesy of MTN Pulse.
It is easy for youth to become MTN Pulsers; All they have to do is download the MTN Pulse App available on both google play and iOS app stores and take over the world.
---
The MTN Global Graduate Program is BACK
Do you want to be part of the team...
MTN-SAS Data science scholarship program shortlist
Congratulations! You are shortlisted for "MTN-SAS Data Science scholarship"....
#MTNPulseCypher Listeners Party
Ebintu bitabusse. The MTN Pulse Cypher Top 5 have...
MTN UG at 500k Twitter Awards – Nominations
We are celebrating 500,000 Twitter followers for mtnug and...
MTN UG Hip-Hop Awards 2022 Voting
It is time for your to have your say....
Do Internship with MTN 2023
Calling all ambitious undergraduates!  Don't miss the incredible opportunity...
The MTN Pulse Cypher
Time to show some love to your favourite MTN...
MTN Pulse in partnership with Victoria University awards 10 youths with Scholarships
MTN Pulse, has today awarded Victoria University scholarships to...
MTN Pulse Victoria University Scholarships Competition
Create your own user feedback survey
Pulse Hustler: Meet Mayenda Collins a Devoted Writer and CEO MCI Torch Blog
Have you ever taken a simple google search about...
"The Media Doesn't Appreciate the Uganda Movie Industry Enough" Young Actress Sophie Nalukenge Speaks Out
We recently saw the rise of Pearl magic prime...
Pulse Hustler: Despite the Pandemic, Sybil Mujabi Diana Was Able to Start Her Online Business That Will Soon Hit its 2 Year Mark
If there's anything some of us might be grateful...
Pulse Movie Plot: Lovers Tom Holland and Zendaya Nail Spiderman:No Way Home
The top ambition of the Marvel universe has to...
Pulse Feature: Rising Star Joshua Baraka Opens Up; Music, Studies, Family and More
Our guest feature today is Ugandan music artist Joshua...
Pulse Fashion: Why You and Your Family Should Get Matching Christmas Outfits
It's that time of the year where bright lights...
Buzz Teenz Awards 2021 Winners – Full List
Yesterday the long awaited and prestigious Buzz Teenz awards...
Pulse MCM: Tax Advisor Trevor Ian Ssenyonjo Advises Younger Law Students to Explore Emerging Areas in Law
Our MCM today is Trevor Ian Ssenyonjo. For those...
Pulse Movie: Sing 2 is the Perfect for a Christmas Movie Night With Family
Remember Sing? The 2016 animation? Yeah, you need to...
Make the Best of Your Holiday With MTNGoGames
For some, the holiday started at the beginning of...
Pulse Hustler: "Radio Stations Should be Digitalized to Reach Wider Coverage" Mildred Couchita suggests
Mildred Couchitah Pedun is a journalist who works with...